Galanthus 'S Arnott' AGM
Amaryllidaceae
Habitat: partial shade
Soil: with plenty of humus.
Height: 20 cm
Flowering: early spring
Width: 10 cm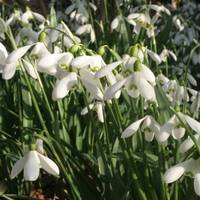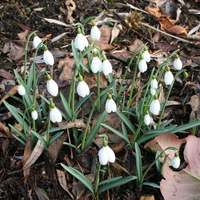 Galanthus 'S Arnott'
Galanthus 'S Arnott'
The snowdrop is always a firm winter favourite. Its time of emergence is always a talking point and a chance to compare geographical and yearly differences. All have hanging white flowers, with green tips and streaks on the petals, so that there are hundreds of varieties, that experts get very excited about. Foliage is anything from bright green to a refined grey-green, and can be broad or narrow.
Galanthus 'S Arnott' is a popular and attractive variety, easy to grow. It has large flowers on relatively long stems, with greyish-green leaves.
G48-1B
1 bulb £4.00
| | | |
| --- | --- | --- |
| | | Galanthus x allenii is probably a natural hybrid, distinct but quite slow to multiply. It has wide grey-green leaves and single flowers with a simple green V mark. It is strongly scented. |
| | | Galanthus nivalis is the common snowdrop. Its pretty, nodding, white flowers, with green markings on the central part, are always a delight. |
| | | Galanthus nivalis f. pleniflorus is the double-flowered snowdrop. |
| | | Galanthus reginae-olgae is an autumn-flowering species. |