George Forrest probably had more influence on the plants growing in gardens than any other plant explorer. He was sent out to China by the seed firm of Bulley, on the recommendation of Sir Isaac Bayley Balfour of the Royal Botanic Garden in Edinburgh. He left for south-west China in 1904, travelling overland through Burma, and spent most of the next twenty years working with a large team of local collectors, sending back to Britain herbarium specimens and seeds - tens of thousand of collections. Rhododendrons and primulas were pre-eminent, but plants of many different kinds found their way into cultivation.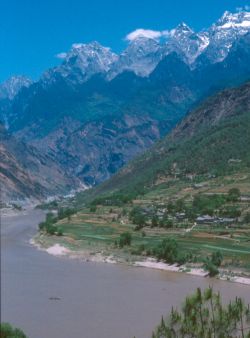 We had long admired George Forrest; after all, his name is given to the award for the best plant in each Scottish Rock Garden Society show - which we have never won! Then on our expeditions to China we found ourselves covering much of the ground with which he was familiar. On one occasion, after toiling, two slow steps up and one fast slide back down, over endless scree, we eventually reached a mountain summit. Our Chinese guide told us that we were the first westerners on that spot since George Forrest himself. Whether or not that was true, we began to feel an affinity with him.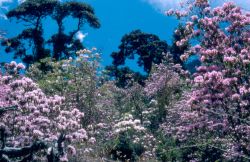 Then we discovered that when he left for China in 1904 he was living just a mile from here, in Loanhead. On his return, he moved with his wife, Clementina Traill, into Glenkevock House, the nearest house that we can see when we look out over our garden. So George Forrest was our neighbour.